Cat Club cat food now available in pouches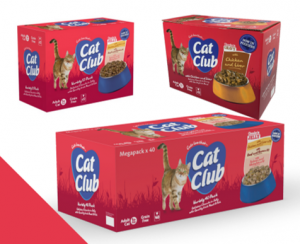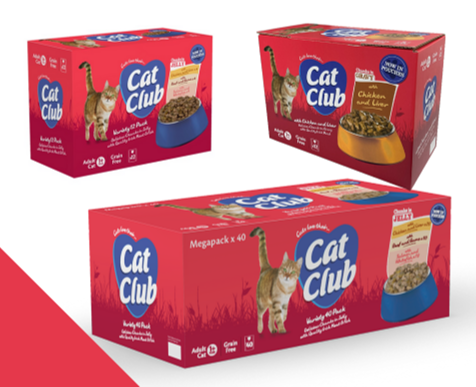 Introducing Cat Club Pouches!
Mackle Petfoods expand their popular Cat Club range.
Mackle Petfoods, the makers of Brandy and Naturo dog food are excited to introduce their new Cat Club pouches to the market.
Made with the finest quality Irish Meat and locally sourced ingredients, Cat Club is fully traceable from FARM to POUCH.  Cat owners see their cat as not just a pet, but as an important member of the family and they want to feed them only the best.  However, our feline friends can be fussy creatures and cat lovers know that palatability and quality is vital.  Value for money is also important for many pet owners across Ireland.  Cat Club's natural, meaty chunks in appetising Jelly or Gravy have all the nourishment and essential vitamins and minerals to ensure all round good health and lively energy, so consumers know they are feeding their cats a tasty, nutritious meal they'll love.
Cat Club has a loyal "can consumer" and the introduction of the Pouch brings the brand to the cat owner who prefers the single serve format. There is consumer demand for convenience, freshness & portion control and 78% of Wet Cat food is purchased in pouch format*. In pouch format, the single serve portions mean a convenient, fresh experience every time. Cat Club has a proven sales record in the Northern Irish market and the popular cat food range has experienced tremendous growth.
The new Cat Club pouches are available in the following formats and offer the customer a high-quality product at value for money pricing:
40 x Variety pack in Jelly- Chicken & Liver, Beef & Game, Salmon & Whitefish
12 x Variety pack in Jelly- Chicken & Liver, Beef & Game, Salmon & Whitefish
12 x Variety pack in Gravy- Chicken & Liver
The growing success of Cat Club since its introduction in 1998 is testament to yet another quality product from a local Northern Irish company whose philosophy is to put pets first. Celebrating 50 years in business, Mackle Pet Foods, has worked with specialist nutritionists to produce only the finest quality pet food products. Cat Club has experienced double-digit growth over the last 5 years. This phenomenal growth demonstrates the commitment of consumers to support local.
Along with promotional activity, Cat Club will also be supported by a strong digital campaign throughout the coming months.
Why not visit Cat Club on Facebook @catclubcatfood to see more!
"Cats love their Cat Club"!
*Nielsen (NI) MAT Dec 2021