Celebrating Brandy's 50th with U105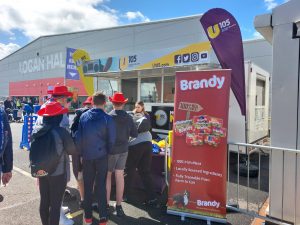 The sun was shining as Brandy celebrated its 50th birthday at the Balmoral Show 2022 alongside U105.  Veteran broadcaster Frank Mitchell was broadcasting live from the show and demonstrated his juggling skills to passers by (video available on Brandy Facebook page).  Consumers were asked to fill in a short survey in return for a free Brandy toy to mark the milestone birthday.
Eva Strain, Marketing Manager for Mackle Petfoods  commented "it's fantastic that we are able to be back at the show in person.  Brandy pet food is loved by consumers across Ireland.  We've been giving out plush Brandy puppy toys across the day and both parents and children love them. We're really pleased to be at the show because as a local brand we feel its important to support both U105 and this iconic agricultural show."
This year at the 153rd Balmoral Show in partnership with Ulster Bank, the Royal Ulster Agricultural Society will be marking the Queens Platinum Jubilee with a number of special activities across Show days.
The Balmoral Show runs from 11th May – 14th May 2022.