Introducing our fifteenth Cat Club finalist… Billy the Kidden!
We had a chat with each of our first round finalists to hear all about their favourite furry friend, covering everything from coming home stories to adorable antics and of course Cat Club!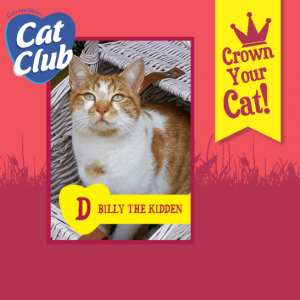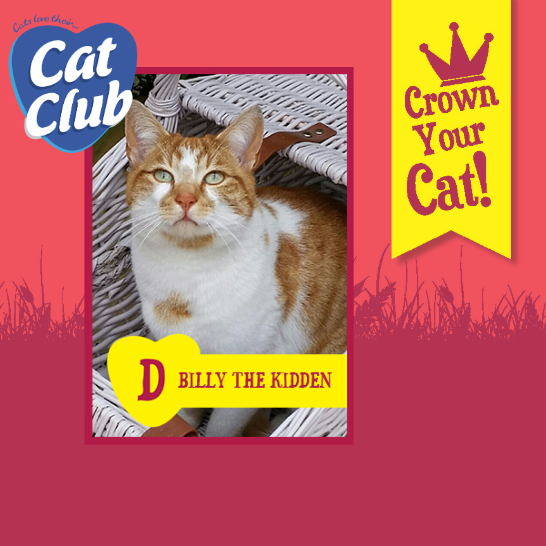 Gained Family Member status when:
Tom recalls their paths first crossed on a Sunday afternoon when Billy appeared on the kitchen window sill whilst Sunday dinner was being cooked (his timing has always been purrfect).  When this fresh faced kitten placed his paw under the open window it was the beginning of the big time and the start of a formidable friendship between this pair (okay so we're dramatizing it a little but we decided to either go big or go home on this description because it's just so darn cute).
Billy began to follow Tom around on the daily (furry feline sticking plaster alert) and despite living with a lovely neighbour nearby his paws seemed to find their way into Tom's back garden, across his decking or to his favourite seat… the sun lounger (catching those rays in comfort is important).
When Billy's family moved house, they decided due to the bond that Billy had developed with Tom he would be happier moving in with his new found friend.  So Billy happily moved down the street, where his favourite house became his favourite home.
What happened next?
When Billy arrived on the scene, he had accepted the name Jeffrey but with his bright coloured coat and cowboy character he posted his request for a name change (with a paw print for a postage stamp!).  After a little thinking time, Billy the Kidden was nominated as his new name – this cool cat finally had a name to match his pawsome personality.
A typical day includes:
Billy begins his day by making time for a little sun and a touch of peace and quiet on his favourite sun lounger.  If this furry feline had a sun towel you can be sure Billy would be reserving his seat as his first matter of business (we hear you Billy, there is a science behind prime positions to setup the perfect snooze for your favourite dream… dare we say that dream involves some Cat Club?!).
After his morning sun soak, it's time to investigate every box and bag within a 5 mile radius (conscientious is his favourite word) but his favourite is his hamper.  The hamper (as Billy affectionately calls his cat pad) is his ideal comfy curl up cat nap nook! He curls up in it when the sun is shining on his cosy corner and when the heating gets a little too high, he rolls to the other side under the flap and into the shade (seriously, Billy has everything down to a science… literally he's waiting for his Nobel prize any day now).
Fond of a 4×4 or two, this cat likes to investigate Tom's Landrover.  Either from the bonnet to watch while it's being worked on (what did we just say about his love for science…) or when he gets the chance to slip into the boot and check out the current box sizes in stock (we're trying to picture what Billy would think if knew the Container Store existed…) for future snooze spots.
In the evening Billy loves nothing more than toasting himself in front of the stove (are you seeing a pattern with this little sun catcher?) but after his Cat Club supper he lets Tom know he is ready to roam and run outside for his sleep under the stars… you guessed it – to his favourite sun lounger!
Why should Billy the Kidden be our Cat Club winner?    
Billy the Kidden has settled into his new family with ease and shows his affectionate, funny and caring personality on a daily basis.  He has been patiently waiting for his break and now it's his turn for a run of good luck.  He's been busy living the dream and dreaming up the next chapter to live – now it's time to put his pawsome plan into action as the next King of the Cat Club crew!