Introducing our thirteenth Cat Club finalist… Mac!
We had a chat with each of our first round finalists to hear all about their favourite furry friend, covering everything from coming home stories to adorable antics and of course Cat Club!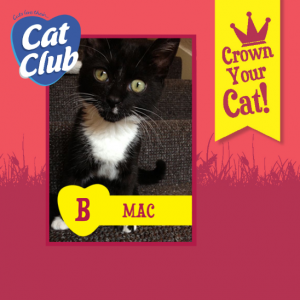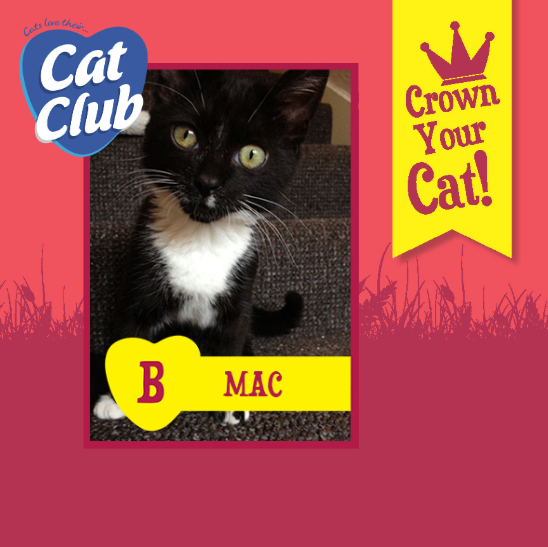 Gained Family Member status when:
Jill found Mac abandoned at the side of the A1 when he was only a few days old.  Picking him up and finding space in her car (not that this little man required much room!) Jill took Mac home to settle into a much comfier seat!
What happened next?
Mac soon found his new home was a lot less scary than navigating the A1 (not that it's much easier when you have a drivers licence and your feet can reach the peddles) and swapped changing lanes for changing steps on the staircase (less opportunities for crashes and collisions are not guaranteed).
A typical day includes:
Mac begins his day with a bowl of Cat Club (When breakfast is the most important meal of the day, Mac makes sure his favourite is waiting at the table – no shake ups when he wakes up is Mac's motto!).
Once his morning munch is taken care of Mac moves on to his second favourite activity playtime!  He loves playing with ribbons (Christmas helper sorted) and cat toys (Christmas present sorted) but this friendly feline also can't hide his amusement for Snapchat's cat filters! Happily pawsing playtime for a quick selfie or a group photo (don't worry Mac, your ears are much cuter!).
After an afternoon of exploring and entertainment, Mac likes to unwind for the day in front of the television with Jill for a cuddle (When Jill misses the hint to join cuddle time, a head bop is thrown in for good measure – actions speak louder than words eh Mac?). Before making sure he works on achieving his daily target of 40 winks (aka 16 hours of sleep!) – when you enjoy your work it's not really work is it Mac?
Why should Mac be our Cat Club winner?    
Mac has grown into a friendly, loving and beautiful cat and I want people to see that rescues are important too! Mac is definitely part of the Cat Club and now he'd like to try his paw at leading the crew!