Introducing our twelfth Cat Club finalist… Kate!
We had a chat with each of our first round finalists to hear all about their favourite furry friend, covering everything from coming home stories to adorable antics and of course Cat Club!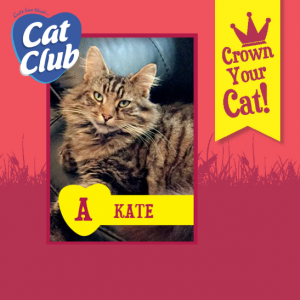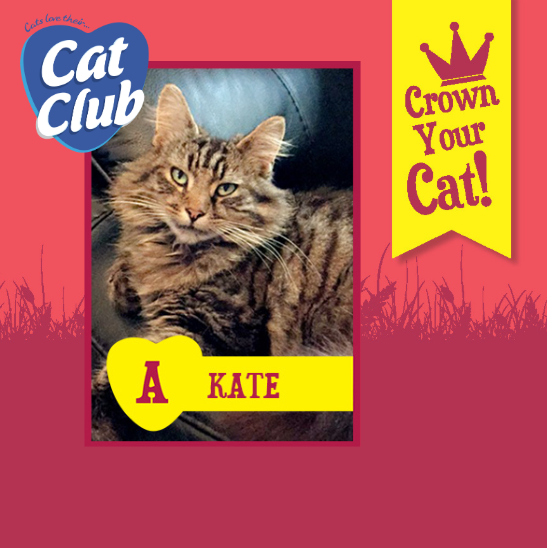 Gained Family Member status when:
Rachel found Kate one night when she spied her all alone in a hedge on the side of the road.  Sadly Kate had been dumped by her previous owners and in her tiny state she was struggling on in bad health.
Luckily Rachel couldn't resist carrying out a rescue mission (we think this qualifies for 007 credentials) and brought Kate home to her new family.
What happened next?
Rachel's dedication didn't just stop at the pick-up point, hand rearing Kate with a bottle until she was old enough to enjoy her first meal (we know you know the drill – Cat Club was obviously on the menu!).  After months of consistent loving care Kate grew up to be a beautiful friendly cat (someone should really tip off Disney about this story).
A typical day includes:
Kate begins her day in the proper way, with a nice bowl of Cat Club to tuck into for breakfast (at Cat Club HQ we wish someone made us breakfast every morning!).  While this furry feline enjoys all her Cat Club flavours, her favourite is chicken and liver in jelly (what can we say… you guessed it… cats love their Cat Club!).
Getting in a little exercise is also important but Kate's morning workout routine might look a little different to yours.  Jumping in and out of boxes (we've heard this is known to be so strenuous, participants may have previously fallen asleep in these boxes… *Kate looks around to see who we're referring to), playing with a ball of string (who says new-fangled devices are required?) and when she can enlist some human help, chasing after that string to sharpen her reflexes.
The next matter of business to attend to is her social calendar (forget social butterfly, we're talking about a community cat with quite the collection of companions!).  Kate heads outside to climb the social ladder and play with her furry friends, catch up on current affairs and of course listen to the latest local chatter (Jimmy from 3 doors down usually provides the lowdown, from serious discussion about the state of their Cat Club cupboards – monitoring stock levels is an ongoing mission – to how Sheba broke it off with Tom 2 streets over… word on the street is she caught him "borrowing" some of her Cat Club *what were you thinking Tom?!*).
Of course by mid-afternoon all meetings are adjourned because once one email reminder goes off about nap time… focus begins to shift to that all important sofa waiting at home (we're getting sleepy just thinking about it!) and Kate heads home for a cat nap and a cuddle.
Why should Kate be our Cat Club winner?    
Kate has been preparing for this moment throughout her life (training has been intense) and now she has been established as Queen of the house, she hopes she can be the Queen of Cat Club too!