Mackle Petfoods Celebrate 50 Years Of Making Pets Happy
Founded in 1972 by the late John Mackle, the multi-award winning Mackle Petfoods is celebrating 50 years of being one of the nation's favourite and trusted pet food manufacturer providing four-legged friends with the very best of wet, dry and freeze dry pet food. 
For half a century, the-once-father-and-son team has since evolved into an expansive network of hardworking employees who are dedicated to meet and exceed pet owner's needs for highly nutritional and palatable food.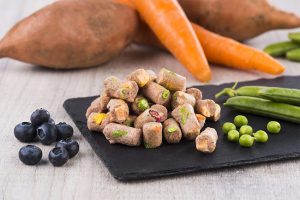 Mackle Petfoods have spent years developing products with an appealing smell, taste and texture to ensure that they are enjoyed by pets from the first bite to the last. Today the portfolio of brands is available in 19 countries worldwide.  From the very first can of Brandy dog food to roll off the line in 1972, to the thousands of cans shipped worldwide daily, the same love, care and attention goes into every product for pets. Afterall, they are family!
Both wet and dry products contain no artificial colours or flavours, are free from soya and are made with a nutritious blend of protein, natural oils and all the added vitamins and minerals required to keep pets happy and healthy. 
All Mackles Petfoods recipes are tailored to suit every budget from a value range through to a super premium range available in a variety of tasty flavours. 
Across two key sites in Moy and Moygashel, Mackle Petfoods have recently optimised their manufacturing and production processes with a £2 million investment in their CAMA line at their state-of-the-art facility in County Tyrone which operates a multi-flavour packing line with shrink wrapper and robotic depalletiser.
All technologies used throughout the manufacture of all Mackle Petfoods products are constantly reviewed and kept up-to-date, with new developments in manufacturing, and process control being investigated and where needed implemented to be more environmentally friendly to reduce energy, waste and carbon footprint.
From the beginning, the independent family-owned business has adhered to strict guidelines, working closely with vets and specialist pet nutritionists and sourcing the finest natural local ingredients where possible, to produce top quality products. 
Customers can always continue to rely on Mackle Petfoods to deliver the best quality and value across the brands that make up Mackle Petfoods today.