Naturo range goes from strength to strength in Asda Stores
We are proud to announce our premium range Naturo will be increasing its offering in ASDA stores across the UK from February 2019.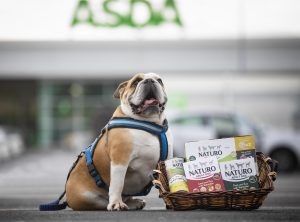 Already available in almost 400 stores, the Naturo 400-gram tray will now be stocked in an additional 130 stores, while the Naturo variety pack canned food will be launched into 350 stores, a first for the retailer.
This latest announcement builds on the growing presence of our Naturo brand in the UK, which has generated multi-million pound sales in 2018 alone.  The market growth in the UK is reflective of changing attitudes to maintaining the health and well being of pets, with many pet owners switching from other brands to natural food.  Since we launched Naturo in 2013, the range has increased from 4 varieties to 33, a result of constant innovation and development in response to our customer feedback and market trends.
Asda launched Naturo in selected stores in May 2018 and now stocks eight products, including 'Grain Free' Trays and variety packs.
Commenting on the launch of Naturo canned food into an additional 130 Asda stores UK wide, Laura Rafferty, Marketing Manager for Naturo, said;
"In the eight months since ASDA began stocking Naturo, our relationship has gone from strength to strength.  The growth in natural petfood sales is a response to several market and societal factors including the 'humanisation' of pets by their owners, the desire to feed pets with high quality premium food and an interest in pet 'wellness'.  As well as using only high quality ingredients in all our food and treat ranges, Naturo also caters for pets with allergy and digestion issues through our grain-free products."
Emma Swan, Buying Manager for Asda NI, added;
"The successful expansion of the Naturo range across Asda's store network demonstrates our commitment as a retailer to stock the very best Northern Ireland products on shelves throughout the UK.
"As a result of our excellent working relationship with Mackle Pet Foods, we are now able to offer pet lovers who shop with us an even greater variety when it comes to a high-quality product offering – which delivers on taste, health and innovation for their four-legged friends."