Working together with our Canadian partners to continue global growth.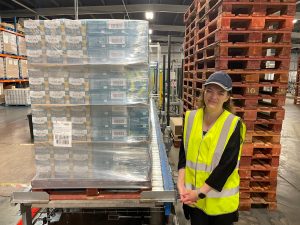 Since commencing business with Canada in 2021 we have been delighted at how pet parents across Canada, along with their beloved cats and dogs, have responded to Naturo Petfoods.
As part of our business strategy, we are delighted to work with Bonnie Burton as a brand ambassador for Naturo on behalf of Avafina Petfoods.  As a member of the sales team, Bonnie has over thirty years of experience in the pet industry in Canada.
We were delighted to welcome Bonnie to our factory to meet the Mackle Petfoods team, learn more about our products, and experience the Naturo difference which makes Naturo such a hit with pet parents globally. The visit included time on the production line, packing lines and a visit to the NPD / quality kitchen to see firsthand what goes into making our 100% natural products.  Additional time was spent with the marketing team discussing future marketing strategies to support growth in the Canadian market.
Bonnie also got to spend time with our sales team visiting some key customers whilst at the same time experiencing the beauty of Northern Ireland.
Colin Ferguson, Head of Sales said, "We are delighted to welcome Bonnie to the home of Naturo Pet Foods and we are really excited about how this will benefit our mutual business together in coming years."