Introducing our tenth Cat Club finalist… Jillian!
We had a chat with each of our first round finalists to hear all about their favourite furry friend, covering everything from coming home stories to adorable antics and of course Cat Club!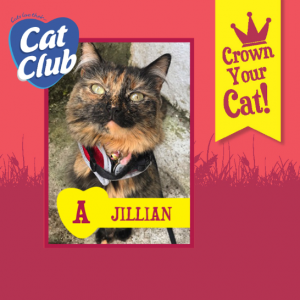 Gained Family Member status when:
Barbara found Jillian at a local rescue centre in September 2016 and couldn't resist bringing her home. Jillian turned two this year so as they say, the rest is history!
What happened next?
Picking a name for this feline family member required a little inspiration… *cue Jillian Holtzmann from the recent addition of the Ghostbusters movie – we wonder if this was the moment Jillian decided centre stage was where she belonged?!
While Jillian was shy at the beginning and continues to be around people she doesn't know (until they flash their Cat Club Crew membership badge obviously) she is now very chatty with her family.  All Barbara has to do is look at her and a meow and a chirp will come back instantly.  When you live with two dogs, a snake and a bearded dragon it's important to make your voice heard!
A typical day includes:
A typical day for Jillian is a day of many naps (we wish we had the same schedule at Cat Club HQ).  Her cat tree, Barbara's bed and the back of the couch have all been confirmed as designated siesta locations (and we're not just talking about in the middle of the day).  However when winter hits (or a typical Irish summer) Jillian has a solution for when catching those 40 winks gets a little chilly… climb on top of the reptile tanks and warm your paws right over the heat lamps (work smarter, not harder eh Jillian?).
Jillian's second mantra is 'appreciate the little things in life' (we're wondering if that has anything to do with the fact she's a little cat…).  She loves to go out for walks on her harness and lead or take a stroll around the garden to grab a little fresh air before reclining on her cat tree and doing a little window shopping, *correction bird watching, we meant bird watching*.
However this little cat isn't just a pretty face (although who could resist not looking at that cute face all day?).  Jillian is also a part time stunt double with a tricks repertoire that includes the ability to sit, beg and paw in return for a treat (better move fast when you're around this cat otherwise you'll look down to find her running circles around you!).
Why should Jillian be our Cat Club winner?    
Jillian is already Queen of the house and she'd like to take her reign further! She's a brilliant cat and we love her very much – we hope everyone else does too!
Think your feline friend has what it takes? To find out all about our competition and how you can enter, click here.