Introducing our eighth Cat Club finalist… Luna!
We had a chat with each of our first round finalists to hear all about their favourite furry friend, covering everything from coming home stories to adorable antics and of course Cat Club!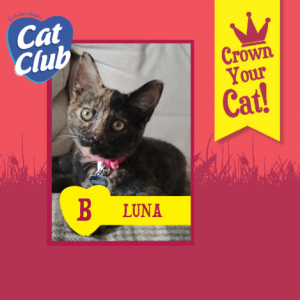 Gained Family Member status when:
Moving out is never easy (we've heard *warning: due to the sensitive nature of the following information, we advise you cover your furry friend's ears* not everyone has a cupboard full of Cat Club on hand!) and Luna was faced with not only moving out but also moving on when sadly her previous owner's kids became allergic to her fur.  This little kitty was given her notice and had to begin a property search in earnest! With a loving family to move in with as her only requirement, luckily Luna found Lucy (she didn't even have to do a little sofa surfing!).  While it was a big loss for her first family, it was a huge gain for her newfound friends – Luna had found a new place to call home.
What happened next?
Her endless energy and impressive acrobatics soon had everyone entertained! (Forget two legged performers, there's a new stunt double in town). Luna's fun loving personality won everyone over and she firmly established her place within her new home (hanging off the stairs, careening off the counter tops, you know all the usual places).
A typical day includes:
Luna is now just six months old and still a very playful puss, who is always on the go! However every pocket rocket needs their fuel and this little one is no different, with Cat Club her first port of call every morning.  After she has made the necessary pit stop it's back to play time (with a few cat naps thrown in of course!) before planning her next adventure.  While this city kitty likes to head to Armagh on the weekends, it's not for a bit of window shopping but rather a countryside run, a spot of bird watching and a little hunting practice (all she needs now is a tweed cap and a pair of riding boots – she already has the tortoise shell coat so camouflage isn't an issue!).
When you're a sociable and curious cat like Luna you also tend to have a habit of making new friends wherever you go (remember when a quick trip to the shops turned into an hour long wait in the car because your mother bumped into 456 people she knew in every aisle? Well Luna doesn't like to talk numbers but she isn't far behind.) However inevitably when you're trotting through the fields your most frequent acquaintance is… cows.  Which Luna had no problems rubbing noses with during her latest conversation (they experienced a moment together – the price of milk is a travesty for both communities).
After days of endless fun and burning off her energy, Luna heads home for a snuggle on the sofa, her daily dose of affection and lots of neck kisses – her favourite spot!
Why should Luna be our Cat Club winner?    
Luna should be crowned Queen of the Cat Club crew as she is the most affectionate, good natured and lovable little cat. Her personality shines as soon as you meet her!
Think your feline friend has what it takes? To find out all about our competition and how you can enter, click here.