Introducing our eleventh Cat Club finalist… Tilly!
We had a chat with each of our first round finalists to hear all about their favourite furry friend, covering everything from coming home stories to adorable antics and of course Cat Club!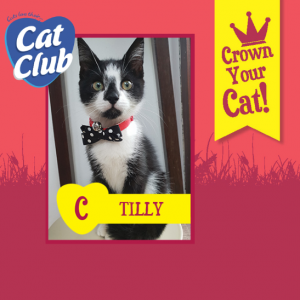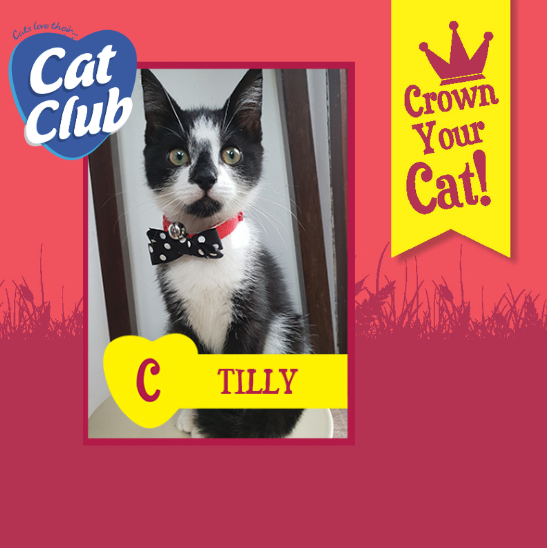 Gained Family Member status when:
Emma's previous cat Arya was unfortunately killed on the road in May and Emma was having a hard time coping with the loss.  However when she had to work a few long shifts in July, her partner took the opportunity to collect Tilly from The Husky Salvation and adopt a new little family member as a surprise for her!
So a cuddly, crazy little cat called Tilly found her way to a new home to meet Emma.
What happened next?
Emma walked through the door (with no clue Tilly was waiting for her!) on July 14th and this friendly feline walked straight into Emma's world and stole her heart (If it sounds perfect that's because it was, *heart officially melted).
A typical day includes:
Breakfast is the most important meal of the day and Tilly makes sure she doesn't miss out with a bowl of Cat Club to start her day off on the right paw!  Once breakfast club has been adjourned until tomorrow morning, Tilly fits in a playdate and a cuddle with her sister Needle (we checked The Catford Dictionary, jumping on your sister does count as playing).
After a morning of rough and tumble (with an affectionate cuddle or two thrown in) Tilly loves to play with her toys, complete her daily travel route (aka a detailed house tour) and cuddle up to her favourite humans until bedtime (she's been known to smother her humans with love but then again, who could complain about cuddles from this cute cat?).
Of course Tilly also has a few quirks, grass being her number one nemesis.  She refuses to place her paws anywhere near a confusing outdoor carpet that likes to leave its mark on freshly groomed paws… we hear you Tilly, it's just plain rude.
While this little cat won't let you lead her down the garden path (its suspiciously close to the grass) she will follow you around as your loyal companion.  If Tilly can't see you, she will call until you answer and once you've been spotted that call will change to a meow for food and attention (it's not about working the system but making the system work for you eh Tilly?).
Why should Tilly be our Cat Club winner?    
Tilly is one of a kind – playful, loving and with very unique features.  Her four paws have a different number of black beans mixed in with pink! She already has her own following on Instagram: @cats_are4life and now she just needs her crown!
Think your feline friend has what it takes? To find out all about our competition and how you can enter, click here.