Introducing our First Cat Club Finalist.. April!
We had a chat with each of our first round finalists to hear all about their favourite furry friend, covering everything from coming home stories to adorable antics and of course Cat Club!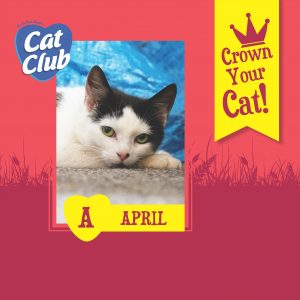 Purrfect Profile: April
Gained Family Member status when:
Emer found April several months ago when she appeared on her doorstep as a heavily pregnant feral stray.  Initially Emer couldn't pet or even touch her but thanks to several weeks of patience, gentle love and care – not to mention Cat Club! Emer was able to bond with April and give a loving home to a cat with no owner, no chip and no confidence.
What happened next?
April gave birth to four beautiful healthy kittens; with her paws full she became a proud mama that grew more relaxed around Emer every day.  Now Emer's girl is so friendly she doesn't leave her side! Finally able to receive the care, comfort and attention she so desperately needed, April is now a happy, healthy cat who still has an appetite for her favourite food – Cat Club!
April's little offspring have now all grown up and left the nest to go to their own kind, loving homes – giving April a chance to enjoy some well-earned peace and quiet! Except for little Rainbow, who is keeping her mama busy playing games and cuddling on the couch.
A typical day includes:
Every morning starts with her favourite meal of the day, a tasty tin of Cat Club for breakfast! When she isn't doing a spot of bird watching from her favourite window, April loves to hang out with her family.  Whether that's looking for chin rubs from Emer or curling up with little Rainbow, this love bug makes sure she gets her cuddle quota in for the day.
Why should April be our Cat Club winner?    
When I look at how happy and content April is now compared to how afraid and lonely she was before it warms our hearts. I believe April really appreciates what we have done for her and in return repays us with so much love it's amazing.
April has been through so much, from a feral homeless stray to loving family pet, partly due to the tasty tins of Cat Club we put out for her! This is why we believe our April should be crowned Queen of the Cat Club crew – you helped her when she was down and now she is on top where she belongs.
Think your feline friend has what it takes? To find out all about our competition and how you can enter, click here.