Introducing our Fourth Cat Club Finalist.. Pantha!
We had a chat with each of our second round finalists to hear all about their favourite furry friend, covering everything from coming home stories to adorable antics and of course Cat Club!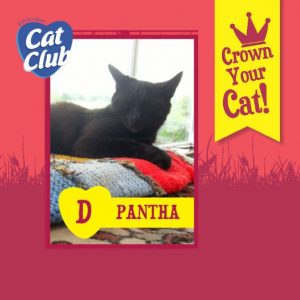 Gained Family Member status when:
Pantha had a rather dramatic start to her life when she was found clinging to a branch over a river! (Talk about making an entrance) but Mike stepped in and rescued Pantha, carrying this little kitten home to a warm bed and a nice bowl of Cat Club.
What happened next?
Once Pantha had settled into her new home, it was time to get back to exploring (avoiding those tricky river branches of course!).  This inquisitive kitten soon found roofs, garden trees and backyard fences are all suitable substitutes for a morning climb, lunch outing no. 3 (it's important to keep up with all the neighbourhood news) or an evening prowl.  However Pantha didn't forget about her rescue operation and continued to keep an eye (including a listening ear) on Mike and her girls, who needs a watchdog when you have a watchcat?!
A typical day includes:
Any good day starts with Cat Club, (This could be a serious solution for Mondays) but after breakfast letting those little paws get in their exercise and complete their daily travels is a non-negotiable part of Pantha's routine. However that doesn't mean she isn't willing to mix up her work out.  If Mike is outside cleaning the windows, this little monkey makes sure to boost her step count by climbing up and down his ladders (Who says cats can't do cross fit?).
If it's a weeknight Pantha likes to find that cosy corner and comfy cushion because it's time to put her paws up for a catch up with Mike (Running the neighbourhood watch is a 9-5 occupation). If it's the weekend, this feline friend likes to maintain a little mystery and steps out on her own for a few hours of undisclosed activity… where she goes has yet to be revealed to Mike!
Why should Pantha be our Cat Club winner?    
Pantha should be the Queen of your Cat Club crew as she would not have survived her rescue mission if Cat Club hadn't been on the menu for those all important mealtimes.
Think your feline friend has what it takes? To find out all about our competition and how you can enter, click here.